Training Center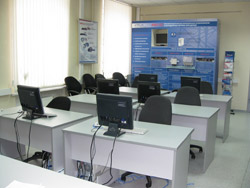 RTSoft Training Center offers a unique curriculum of complementary education programs. The training center was established in 1997 and was certified to carry out educational activities by the Department of Education of Moscow (license #034012).
Training, advanced training and skills upgrade are implemented within two main business-units: the first one is hardware and software for computer automation and the second one is industrial automation, control and information systems.
Highly-skilled tutors who gained significant practical experience lead public education courses and specialized workshops on the following issues:
Platforms for industrial automation;

SCADA-systems and real-time data-bases;

Information collection and transmission systems;

Advanced planning and scheduling systems;

PLC programming systems. Fieldbuses;

Operating systems for embedded and industrial applications.

RTSoft Training Center is equipped with the up-to-date material and technical base, training simulators and facilities. There is a flexible discount system and the possibility of adjusting the education program in compliance with the customers' requirements.
For more information on the education courses and for submitting your application, please, visit RTSoft Training Center website.