NEWS & EVENTS
RTSoft presented innovative solutions for energy management at HANNOVER MESSE 2017
RTSoft took part in Hannover Messe – 2017, the largest European industrial fair which this year celebrated its 70th anniversary. This year company experts presented RTSoft innovative solutions for energy efficiency and cybersecurity on two sites: the Russian Export Center stand and the official stand of Invest-in-Bavaria.
On the stand of Invest-in-Bavaria, the presentation was focused mainly on the needs of the European energy market. Visitors could test the demo model of RTSoft's advanced microgrid management platform - AMIGO. The system is designed to provide energy management of distributed energy resources, storage systems, local volt/var controls and demand-response units. AMIGO is scalable and easily adaptable to various conditions, which allows it to optimize electricity costs, improve the quality of electricity and get additional benefits from the use of renewable energy sources.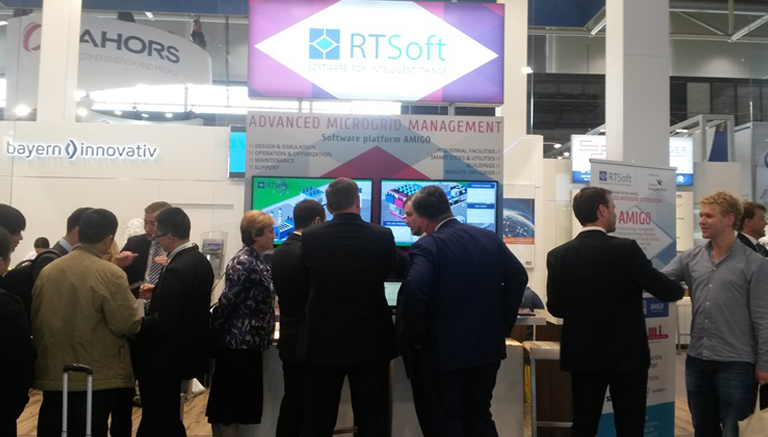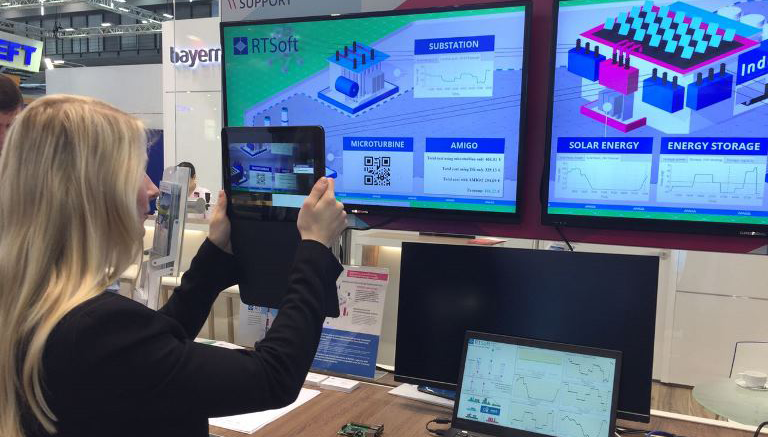 Visitors could change various settings of the virtual environment in real time using a specially created interface and observe how the management strategy changed with regard of the chosen scenario. Scenarios of power systems management and operation were demonstrated with the help of RTSoft augmented reality technology, allowing users to visualize and evaluate the technical parameters and the economic effect from the implementation of the system.
On the Russian Export Center stand RTsoft exhibited products and solutions for industrial automation for the Russian and international markets, focusing on the countries of northern Africa, Central and South-East Asia, Latin America and the Middle East.
The visitors could learn about the company's newest product, which provides information protection in the SCADA systems and at production facilities. RTSoft also presented its information system designed to increase the energy efficiency of enterprises. Advanced microgrid management platform AMIGO was also presented in the innovation section of the exhibition.
Within the framework of Hannover Messe, RTSoft experts held a number of meetings with representatives of various businesses and research facilities from all over the world in order to exchange experience and develop international partnerships.